Learn How to Keep Costs Low through Flexibility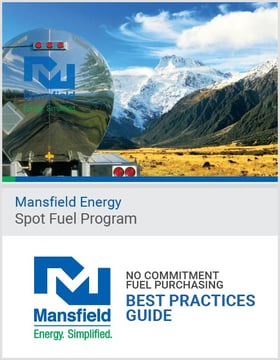 Build Optionality into Your Fuel Strategy
Spot purchasing means buying fuel without a contract; each delivery is bid out to ensure your company receives the lowest price. If you need fuel now without a long term contract, Mansfield Energy offers a no obligation purchase option based on daily pricing. It's simple and flexible and it gives you the reliable Mansfield supply and nationwide coverage.
Supplementing your contractual fuel procurement with spot mitigates risk through portfolio diversification.

In this article, Della Richardshon, Director of Mansfield Spot Delivered Sales, presents proven strategies for implementing spot into your fuel strategy and shares how short-term market opportunities help customers save.

Benefits of Spot to Your Business
Whether you're seeking pricing competitiveness or reliable emergency supplies, implementing a spot procurement approach can pay dividends for your company and provide more sophisticated market insights.
Competitive pricing

Reliable supply

Nationwide coverage

Free quotes

No long-term contract
---
For over 60 years, Mansfield Energy has provided leading organizations advanced fuel management support and solutions across the energy supply chain. To learn more about Mansfield, visit www.mansfield.energy.
Contact the Mansfield team today for a daily spot quote.
800-695-6626 | spotquotes@mansfieldoil.com